Healthy Skin Care in #2014
Eating Right 4 Your Type
[bd_share layout="horizontal"]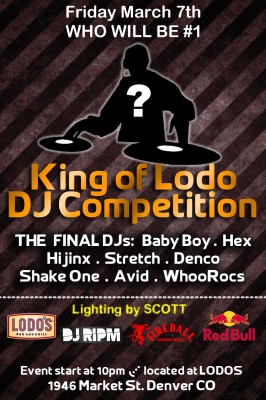 On Friday March 7th I had the opportunity to visit Lodo's Bar and Grill for the King Of Lodo DJ BATTLE FINALS! The event was sponsored by RedBull, and presented by RIPM Entertainment & Fireball with some dope local DJs who included HIJINX, BABY BOY, DENCO, SHAKE ONE, HEX, AVID, STRETCH, & WHOOROCS.
It snowed most of the day but it was still warm enough to prevent ice on the evening streets! My homie DJ Stretch graciously extended an invitation for myself + 3 so I thought what the heck let's get out and about!
I caught all of the DJ's except for one so I figured I'd go ahead and assign my own awards, keep in mind that I'm cool with several of the DJ's who performed. I wouldn't dream of dissing anyone brave and bold enough to battle for the King of Lodo title! I've only ever entered one battle and I'm ashamed to say I completely froze! LOL It's HARD!!! Hella hard and it takes a lot of practice and determination. I just wanted to highlight a couple of my favs moments from the night!
Bella's BEST Turntablist Award is a tie between my big homie DJ Stretch and the crazy fresh DJ Shake One!!! Both of these DJ's are no stranger to the battle climate and they can scratch, cut, mix and beat juggle in their sleep! I loved the presentation of both over all! DJ Stretch spent time engaging the crowd, his movements were fluid and he knew his routine inside and out.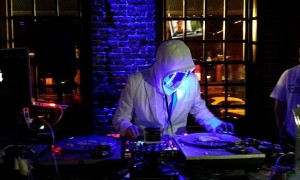 Mean while DJ Shake One pulled out the DMC style tricks! In his routine I watched in awe as us used an older needle and record to do some creative scratching. I'm not even going to get on his costume. Something straight out of a futuristic movie! The event over all was super fresh and I must say I felt geeked to have the opportunity to experience the finals with these two seriously talented DJ's!
As we move onto the party rocker crown I believe that should go to DJ Baby Boy. Now if you don't know who this fire starter is just go ahead and slap yourself… go ahead .. I'll wait…
Okay you can catch DJ Baby Boy live in the mix as one of KS107.5's featured mix DJ's! He knows how to handle a crowd and he is obviously a champ when it comes to traditional style mixing. My favorite thing about Baby Boy is that he started his set out with a completely unexpected classic… Sweet Home Alabama? REALLY!?!?!? The mood and moment was right and the crowd knew the words for sure! I watch and video taped trying my best to keep still but once he put on that twerk remix of My Girl… I couldn't help it, his smooth mixes and dope selection had my rear end wiggling the whole time! I really wish that I could have kept still because I believe the shaking from the dancing caused me to loose the video footage on my cell phone! LOL
If you came to the event (which was pretty packed) You'll know that DJ Hex automatically wins the crown for having the loudest and most rowdy fans! They were chanting his name all through out his set and they made his presence known! I don't know what the rules were for this particular battle, but because he walked away with second place I think it's safe to say that crowd participation was ranked pretty high!
Over all the event was pretty dope! I'm looking forward to following all of the DJ's involved! You never know who will be crowned the next King of Lodo!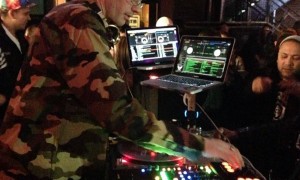 Leave A Comment!