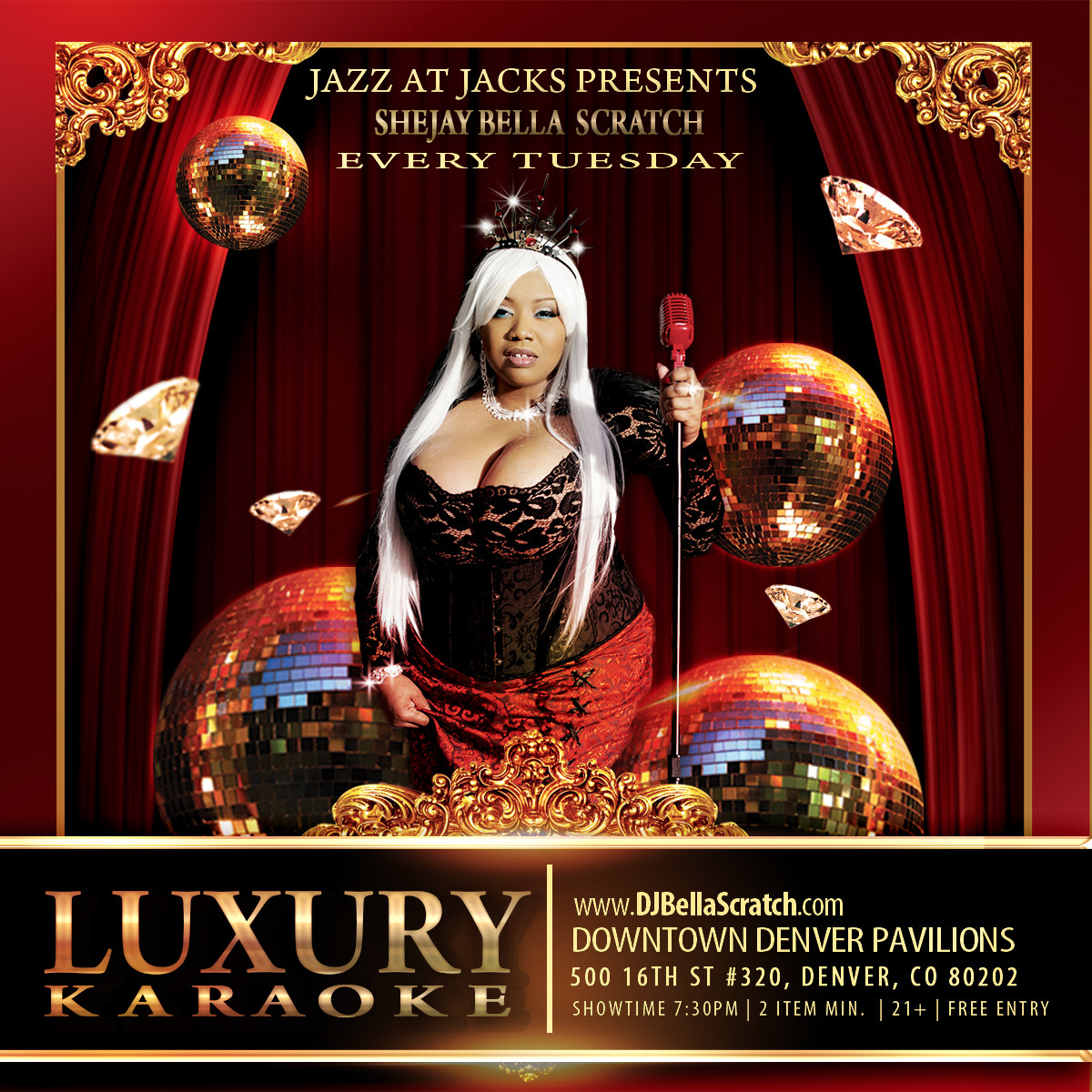 Luxury Karaoke is the hippest Tuesday night in Denver!
Live at Jacks
Luxury Karaoke like you've never experienced before!
DJ Bella Scratch is an engaging host at one of Denver's hippest spots Live@Jacks! Sing in style on Live at Jacks awesome stage! Live at Jacks is an upscale live performance venue located in the Denver Pavillion's 3rd floor on the 16th street mall! Join her every Tuesday night and make new friends while perfecting your singing skills and stage presence!
Karaoke Best Practices
Wanna win the audience over? Bella has a few suggestions to get you ready for your awesome performance!
Know your song! Everyone loves it when you know the lyrics to your song well enough to look at the audience instead of the screen! This also gives you more room to focus on your stage presence!
Keep it uptempo and upbeat! People who love to sing tend to stick with slow dramatic ballads and who can blame them! Pretty full whole notes are the most fun to sing! Just remember that at a typical karaoke venue the majority of the audience is NOT singing! Give them a good show by learning danceable tracks!
Stage Presence is EVERYTHING! People love a great show! You can really ham it up while you are on stage! Pretend that you are a real life rockstar giving the performance of a live time!
Use the microphone wisely! Listen to yourself, are you too loud? You'll usually realize that you are when you look out into the audience and see people wince! Don't scream, don't yell! If you can not hear yourself you probably need to sing louder. A Karaoke host can only turn the mic up so high before it begins to feedback! Lastly,

never drop the microphone

!
HAVE FUN!!!
Leave A Comment!